24 Oct

SUCCESS IN EUROPE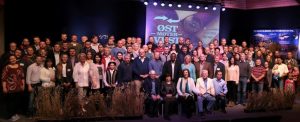 "It was an amazing success!" That's the first comment made by Kevin and Leslie on their recent return from an extended Europe and Scandinavia ministry trip. Privileged to speak before leaders from 21 nations, they saw the Lord expand the family of ministers to include new evangelists from Norway, Sweden, Poland, Israel, Finland and other lands. As Bishop Soni remarked, "I have seen your tribe and it is strong. Now it looks like I'm a member!"
The tribe is indeed expanding into Western Europe and will expand in the USA. In 1989 a prophetic voice from the Philippine Islands declared, "I will send a great man of God into your lives and he will train you for the end-time harvest." Today, these words are coming to pass.
After Norway came Switzerland, where they met with dozens of missionaries from across Europe, including Albania, Romania, Slovenia, Germany, Switzerland and England. Many new relationships, many of whom were pastors, were forged during this remarkable time.
The knowledge, experience and passion for the nations acquired over the last 30 years in almost 70 nations has uniquely positioned Christian Adventures International for such a time as this!
Right now the financial participation of partners and friends is vital on this ministry journey, as together we fulfill our Kingdom mission and partnership purpose!