21 Nov

Why Russia — Now? What Does the Future Hold for Millions of Believers in Russia?

In the following 15 min video clip, Dr. Leslie addresses the final night of the annual national conference of the Russian Union of Christians of the Evangelical Faith (Pentecostals). This historic conference has just concluded in Saint Petersburg, Russia with the theme "500 years of the Reformation: lessons from the past and challenges of the present." Historically, Saint Petersburg is the doorway to Europe and Leslie delivers a significant prophetic word that encourages the leaders of this Union to pursue the God-given mandate to reach Europe with the Gospel. Decades ago, the West would cower in fear of the Russians, but in today's modern world we can lift up our eyes and see that the Russians are coming with—GOOD NEWS!

Leslie is introduced by the Senior Bishop of the RUOCOEF Union Sergey Ryakhovsky. This strong ministerial alliance includes 26 centralized religious organizations (associations, regional diocesan offices), more than 1,300 local churches registered by the Ministry of Justice of the Russian Federation as well as over a thousand unregistered religious groups. Representatives of Protestant churches from all over Russia took part in this conference.

Drs. Kevin and Leslie are founding members of this landmark union, which is by far the largest and most influential Protestant Union in Russia.

_________________________________________________________________________________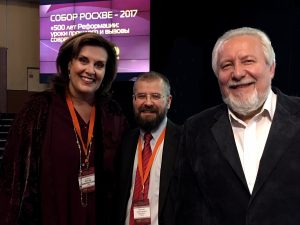 (photo on the left) Dr. Leslie with the Senior Bishop of the RUFOCOEF Union Sergey Ryakhovsky (right) and Business Manager of the Union Bishop Konstantin Bendas (middle).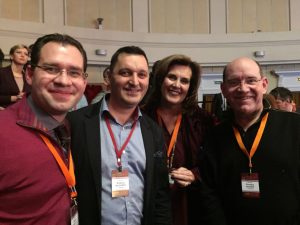 (in middle photo) Dr. Leslie with Pastors of Good News Church in Moscow Rick (right) and Paul (left) Renners and the President of World Harvest Kirill Kozorez (second left).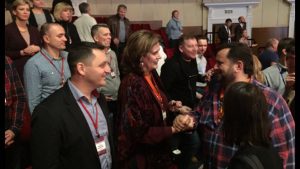 (photo on the right) Dr Leslie with Bishop Andrey Dirienko from Yaroslavl, Central Russia.
We thank you for standing with us in prayer and remembering that you can easily continue online and text donations.